【THE PROGRAMME】
24 youth aged 18-25 embarked on a journey to unleash the power of creative being, including from Nov 2021 – Late Mar 2022:
A 5-day

bootcamp

to rediscover potential, purpose and possibilities to make an impact. Featuring a 3-day-2-night in-camp experience with workshops and sharing by changemakers, industry experts & community members

A 2-month

apprenticeship

 for youth to gain working experiences at a local business and receive mentorship from creative entrepreneurs (Please refer to the

Programme Booklet

)

A 2-month

creative residency

for youth to initiate and pilot innovative community projects in partnership with local businesses to reimagine the Sham Shui Po district

Common room gatherings

and social innovation workshops for co-creation amongst youth and with cross-sector leaders

One-on-one life-coaching sessions to explore career and life paths

A final

showcase

event to share journey learnings and outcomes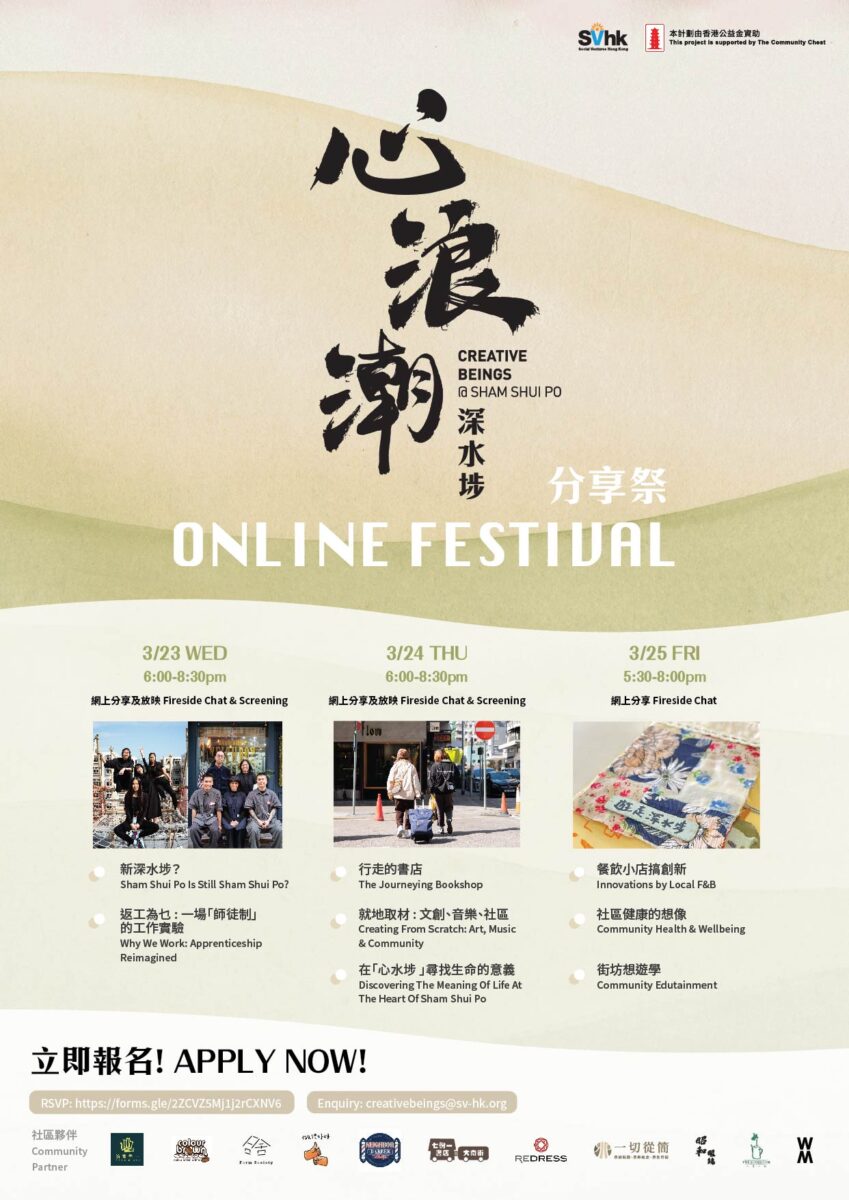 【CREATIVE BEINGS @ SHAM SHUI PO】Online Festival 🎊
In uncertain times of change, how would you choose to BE? Join us to explore the intersections of life, work and community with an online festival celebrating Creative Beings @ Sham Shui Po (心浪潮@深水埗) – a 5-month apprenticeship and creative residency programme bringing together local youth with creative businesses in Sham Shui Po to create collective impact, hosted by Social Ventures Hong Kong.
In three evenings of fireside chats and project showcases, we will gather participating youth, creative entrepreneurs, community organisations and cross-sector changemakers to share innovative solutions for positive change. From future talent development to the social responsibility of local businesses, the impact of art, culture and community collaboration, let us search for a new way of being in this city.
👉🏻 RSVP NOW: https://forms.gle/2ZCVZ5Mj1j2rCXNV6  (first come first served)
Date: 2022/3/23-25
Format: Online (Zoom linkprovided upon confirmation of attendance)
Language: Cantonese
Fee: Free
Enquiries: [email protected]
⋯⋯⋯⋯⋯⋯⋯⋯⋯⋯⋯⋯⋯⋯⋯⋯⋯⋯⋯⋯⋯⋯⋯⋯⋯
▊ 3/23 (6:00-8:30pm)
"Sham Shui Po is Still Sham Shui Po?"
Speakers: Pat (Founder, Wontonmeen) / James (Founder, One Seventh Bookshops & RollingBooks) / Francis (Founder & CEO, Social Ventures Hong Kong) / Harmony (Head of Community Ventures, Social Ventures Hong Kong) / Community member
"Why We Work. Apprenticeship Reimagined"
Speakers: Jason (CEO, MWYO)  / June (Apprentice, RIP88) / @Kate (Apprentice, The Soulroom) / Stanley (Founder, Neighbor Barbershop) / Steven (Chief Impact Evangelist, Social Ventures Hong Kong)
▊ 3/24 (6:00-8:30pm) 
"The Journeying Bookshop"
Speakers: Yat Ming (Founder, Book Punch) / Yuen & Obie  (Apprentice, Book Punch) / Candy & Oscar (Apprentice, One Seventh Bookshops) 
"Creating From Scratch: Art, Music & Community"
Speakers: Vicky (Founder, Every Life Is A Song) / Wong Tin Yan (Founder, Form Society) / Sharon (Apprentice, Form Society) / Kelvin (Apprentice, Wontonmeen)
"Discovering The Meaning Of Life At The Heart of Sham Shui Po"
Speakers: Pasu (RIP88, Founder) / Aris & Sara (Apprentice, RIP88) / Kayan (Apprentice, Wontonmeen) / Vienna (The Soulroom) / RIP88
▊3/25 (5:30-8:00pm)
"Innovations By Local F&B"
Kay (Co-founder, YEARS) / Kenny (Co-founder and Director of Strategic Partnership, Wada Bento) / Edwin (Founder, Colour Brown) / Raymond & Jo (Apprentice, Colour Brown)
"Community Health And Wellbeing"
Sham Shui Po District Health Center / Jacky (Co-founder, Showa Optical) / Michelle & Vanessa (Apprentice, Showa Optical) / Victo (Apprentice, Neighbor Barbershop) 
"Community Edutainment"
Speakers: Corane (Circular Fashion Programme Manager, Redress)  / Max (Founder, Joduchoho & Okapi) / Lisa (Apprentice, Redress) / Anna & Elsa (Apprentice, Joduchoho) / Edith (Head of Imagication, SVhk)
【COMMUNITY PARTNERS】